The iOS platform is overrun with so many synth apps, it's hard to stand out from the pack. This isn't the case with Shockwave. It's a monophonic synth using phase distortion synthesis and a workflow straight out of the Eurorack modular world to provide unique sounds suitable for everything from leads to drones.
Shockwave For The iPad Features
Semi-Modular Phase Distortion Monophonic Synth
Two Oscillators With 5 Waveforms and Noise
Two ASR Envelopes
Two Syncable LFOs
Mixer With Separate Level and Pan Controls Per Oscillator
Cross-Mod Oscillators With Frequency, Amplitude, Ring, and Phase Modulation
Robust Pattern Generator Powers 2×8 or 1×16 Sequencer
Modulation Support Features 11 Sources and 40 Destinations
Modular Features Includes Logic Module, Probability Gate, and Trigger Divider
Support for MPE, MIDI CC Learn, and More
Deep MIDI Out Functionality Controls External Apps and Hardware
Great Reverb and Delay Effects
Supports AUv3, IAA, and Audiobus 3
Available at The App Store For $19.99
Developed by Kai Aras and his company, Numerical Audio, Shockwave belongs in the app library of any iOS musician looking for a high-quality semi-modular synth. Its great sound and intuitive interface make it easy to dive right in and create patches usable in electronic and experimental music. As such, it definitely ranks among the best iOS synth apps.
Shockwave's Intuitive Interface Supports Experimentation
Shockwave's interface features two main screens. One primarily handles the synth programming, with the other featuring the sequencer and utility functions. Everything is laid out in a logical manner, utilizing a cool purple color scheme which can be modified.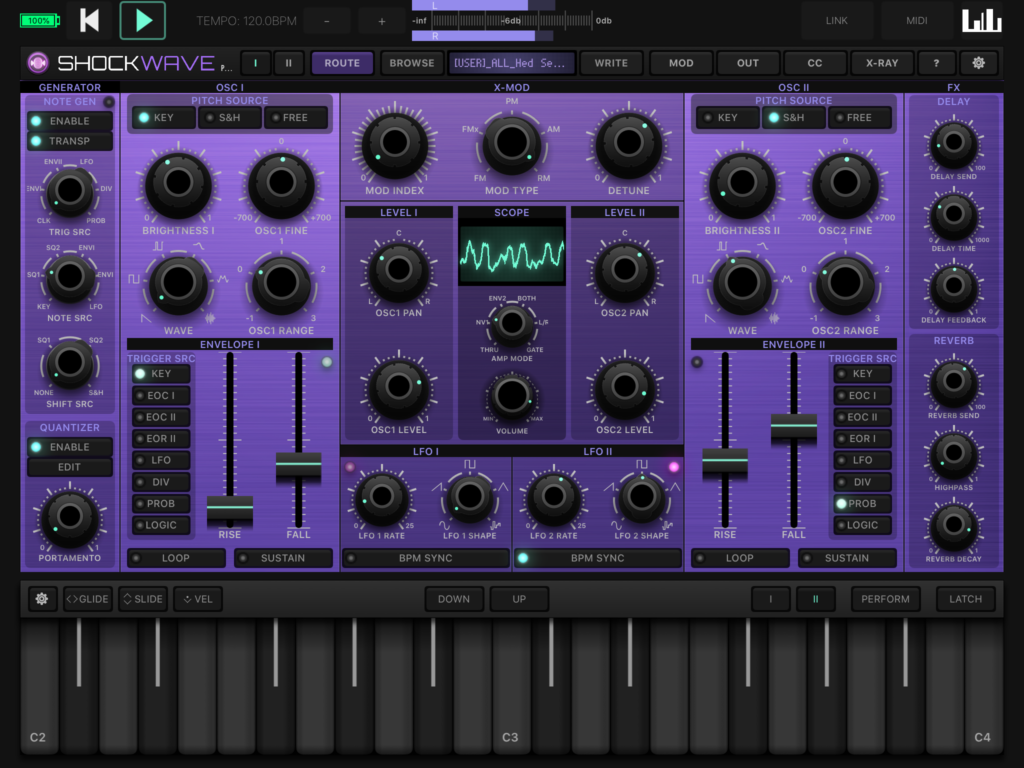 On both screens, tapping the question mark enters a help mode where clicking on a control reveals its function. Still, navigating Shockwave is simple for any semi-experienced synth user. Buttons to switch screens, browse patches, manage modulations, control playback, and more lurk at the top of the synth interface.
The main synth screen features a symmetrical layout, with an oscillator and associated controls located on each side. Naturally, the oscillator cross-modulation functionality, including FM, AM, as well as phase and ring modulation, lurks in the middle, along with a useful oscilloscope. In addition to the output waveform, the scope can also display the LFOs and envelopes. The LFOs and mixer section also reside in the middle.
The two envelopes sports dual sliders to manage the attack and release, along with a switch to select the envelope trigger, which is useful in a modular environment. Separate switches activate sustain mode for both envelopes. For each oscillator, there are knobs to manage turning as well as select a waveform. Note that most of these controls serve as destinations for modulation sources. We'll dive into that later.
On the left side of the synth programming screen resides functionality for generating notes used by the sequencer. You are able to set the sources for note and trigger generation as well as an interesting shift function. This little section plays a big role in Shockwave's cool factor and serves well for building drones and generative sequences.
Delay and reverb effects lie on the right edge of the screen. Both effects sound great, but special attention for the lush reverb algorithm is warranted. It's one of the reasons Shockwave has such a great sound.
A Deep Sequencer Adds to Shockwave's Fun Factor
Shockwave's second main screen contains the sequencer and other utility functions. The robust sequencer operates in either 2×8 or 1×16 modes. Of course, varying the number of steps is possible, leading to those lovable weird time signatures and/or polyrhythms. The note generator section on the first screen works in concert with the sequencer for operation. As noted earlier, it's a great setup for building generative music.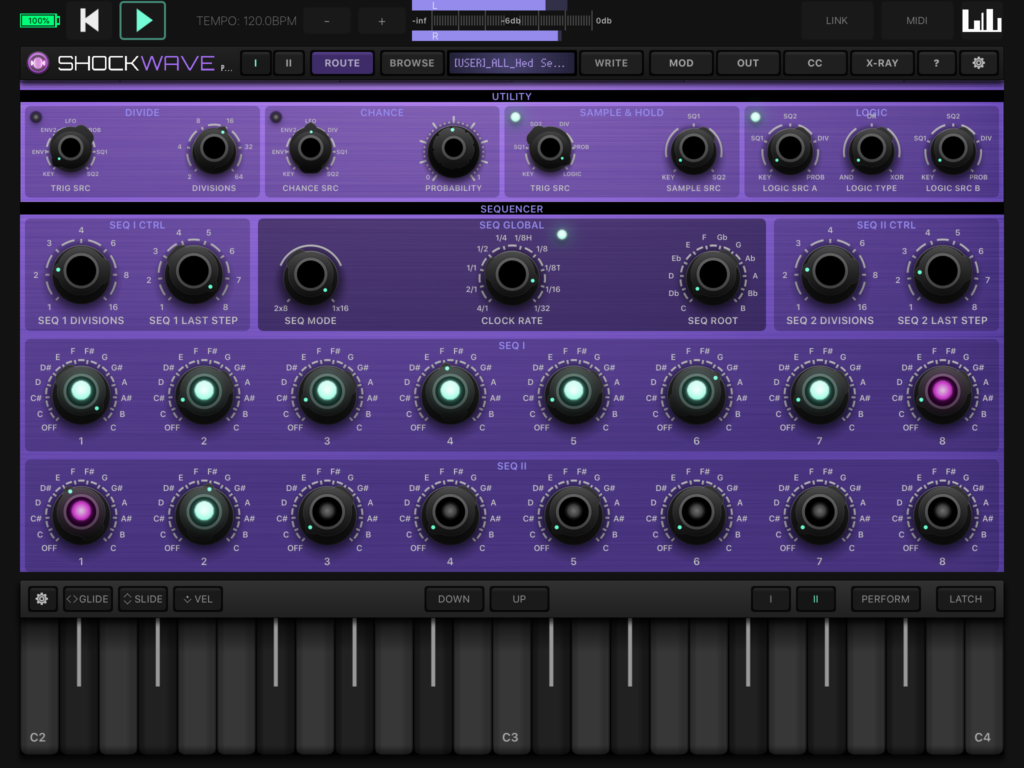 The utility functions give Shockwave a lot of its modular synth flavor. Divider, probability, sample & hold, and a logic section round out this functionality. Anyone familiar with modular synthesis is able to dive right in and explore these features.
However, if you are unfamiliar with the modular world, explore the copious amount of presets included with Shockwave to get some inspiration. The interface is simple enough to support an explorative approach. Using the X-Ray button to see how the controls react in real time helps as well.
Excellent Modulation Support Highlights This Modular Synth
Shockwave's robust modulation matrix is an essential part of its success as a semi-modular synth. Simply tapping the Route button highlights all controls able to be modulated. Tap on a control and select a source and mod level and boom! It's that simple.
Tapping the Mod button reveals all current modulations; enabling you to delete or edit them as necessary. This intuitive interface also boosts Shockwave's fun factor. Once again, dive into the large preset collection to see what's possible. Jakob Haq's patches span a wide range of Shockwave's functionality and are worthy of your interest.
Once again, more everything in Shockwave can be modulated. So creating generative loops and drones is simple. Shockwave's AUv3 support means it's easy to use Shockwave in concert with other effects and synths in AUM or other container apps supporting the AUv3 format. It also supports older iOS standards like IAA and Audiobus.
Shockwave even boasts robust MIDI functionality, including support for MPE controllers and deep MIDI out functionality letting you control virtual and hardware synths. In short, this synth plays well with itself and others.
Shockwave Boasts Excellent Sound Quality
All these cool features go for naught if Shockwave sounded like ass. Thankfully, it doesn't. Its internal Reverb being one of the best on the iOS platform is just one example of the great sound quality within the app. Everything from screeching leads to deep contemplative drones are possible. Again, check out the presets to get an idea for Shockwave's top notch sonics. In the end, Shockwave holds a unique spot in the world of iOS synths. Other iOS modular synths we reviewed, like miRack, Ripplemaker, and Audulus, have their own strengths. However, Shockwave's great sound, focused interface design, and modular functionality makes creating unique generative drones and sequences a blast. It definitely ranks as one of the top synths for the iOS platform. Of course, we recommend it!