VCV Rack garners a lot of praise in the software synth world for essentially being a virtual Eurorack modular synth. It lets users fill their own "racks" with hosts of virtual modules made by the top Eurorack companies. It's a great way to test drive patches from your own modular hardware rack while also sounding great on its own.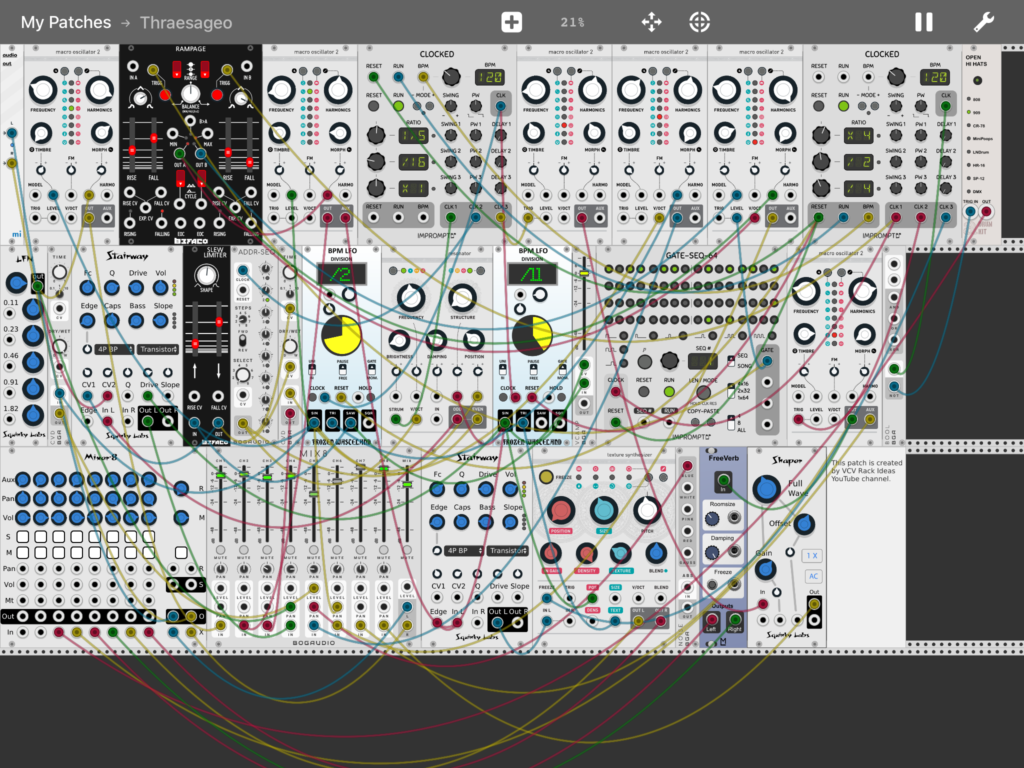 At this time, there were no plans to publish an iOS version, so Vitaly Pronkin of mifki Limited introduced miRack. Essentially a fork of the VCV project, miRack is now its own entity with many of same Eurorack manufacturers supporting the iOS version with their own modules. In the end, miRack is a virtual Eurorack synth for your iPad.
miRack for iOS Features
Virtual Eurorack Synth for the iPad
Over 500 Modules Made by Top Eurorack Companies
More Modules Added Regularly
Great Sound and User Interface
Support for Audiobus, IAA, and Core MIDI
Requires iOS 11.0 and Later
Available at the App Store for $9.99
If you are curious about the world of Eurorack, miRack serves as the perfect learning tool. Its great sound lets you use its patches as part of your larger electronic music projects. A robust and active community means you'll never run of inspiration for new patch ideas. Let's take a closer look.
miRack Features an Easy to Use Interface
On the iPad, miRack essentially looks like a tablet version of VCV Rack. In short, it's a virtual Eurorack toolbox. Upon starting a patch, you see an empty rack except for an audio out module. Simply click on the plus sign at the top of the screen to begin adding modules. Other controls at the top include a link for accessing your patch library, a CPU usage indicator, buttons to turn on Move and High Precision modes, a play/pause button, and the traditional wrench for accessing miRack's settings. It's simple!
The module browser effectively segregates modules by either manufacturer ("Packs") or type/function ("Tags"). The types of modules should be familiar to any synthesis veteran – modular or not. If you are new to Eurorack modular synthesis, perusing the Basics pack is a good place to start. Once you add a few modules, a simple finger swipe from output to input (or vice-versa) port patches things up.
It's easy to slide modules around as necessary. Use the Lock Modules feature to prevent accidental moving. There's also a Zoom feature for deep diving into complex modules with tons of controls. This is pretty much a requirement with patches with a large amount of modules. You are also able to hide a patch's cables if necessary. A two-finger swipe serves to scroll about a large patch when zoomed-in.
The collection of included sample patches provides a good idea of what's possible with miRack. There's also a robust online community to help you get started on your own creations. Check out the vast array of miRack tutorials on YouTube and other sources.
Excellent Eurorack Sonics From miRack
Thankfully, miRack also features excellent sound. As such, patches are usable in your own music projects. Of course, the sound quality isn't quite up to the real hardware, let alone the tactile feel of real controls. However, this is really no different than other software synths, including VCV Rack itself.
Make sure you own a recent iOS device, however. The first version of the app I tried on my 5th generation iPad suffered from audio clipping, even with simple patches. Upon recent updates, that problem disappeared. There's also a buffer setting to ensure the best possible audio performance. The included CPU meter helps you track how much computing horsepower a patch is using.
Vitaly Pronkin releases regular updates, so it's reasonable to expect miRack to be well-supported in the future. The app currently supports Audiobus, IAA, and Core MIDI, and hopefully AUv3 compatibility is coming down the pike. Additionally, new modules are regularly added to the miRack collection. While there are other excellent modular synth apps on the iOS platform, miRack ranks at the top as a true simulation of a Eurorack setup. The ability to use virtual versions of actual hardware modules makes this app a winner. Priced at only $9.99 at the App Store, miRack earns a highest recommendation from us at TabMuse. Pick it up and start exploring the wonderful world of Eurorack.