Way back in the 80s I owned an Electro-Harmonix Mini Synthesizer. A small battery-powered analog beast with a membrane keyboard and internal speaker, I used it to frighten both neighbors and pets with my shrill hammer-on technique. It featured a unique sound possessing a strong bite.
Needless to say, the synth simply disappeared somewhere along my travels. In fact, I never actually bought the one I owned; it just showed up in my life somehow. Memories escape me. Easy come; easy go applies in this case.
Thankfully, the team at EHX released the Mini Synthesizer as an iOS app. Separate versions for the iPhone and iPad are available for purchase. An Android version also exists for select smartphone models – good luck. I picked up the iPad version and found it to be a great emulation of the original… with notable improvements.
EHX Mini Synthesizer for iOS Features
Great Emulation of the Classic EHX Mini Synthesizer
Pulse Waveform Oscillator with Sub-Oscillator
Sweep-able Filter with Resonance Switch and Phase Shifter
Filter Operates in Series or Parallel
New Delay and Reverb Effects
New 4-Voice Polyphonic Mode
88-Key Virtual Keyboard
Includes a Host of Presets, plus Saving Your Own
Support for Audiobus, IAA, and MIDI
Available at the App Store for $4.99 (iPad) and $2.99 (iPhone)
The new features of the Mini Synthesizer app definitely make it worth checking out. It perfectly simulates a classic synth from those halcyon 80s. Let's take a closer look.
Like the Original Electro-Harmonix Synth on a Tablet!
Simply put, EHX did a great job on their Mini Synthesizer app. The interface looks like the original and it sounds pretty close to the real thing as well. The iPad allowed me to reproduce those resonance-laden hammer-ons just like it was 1987.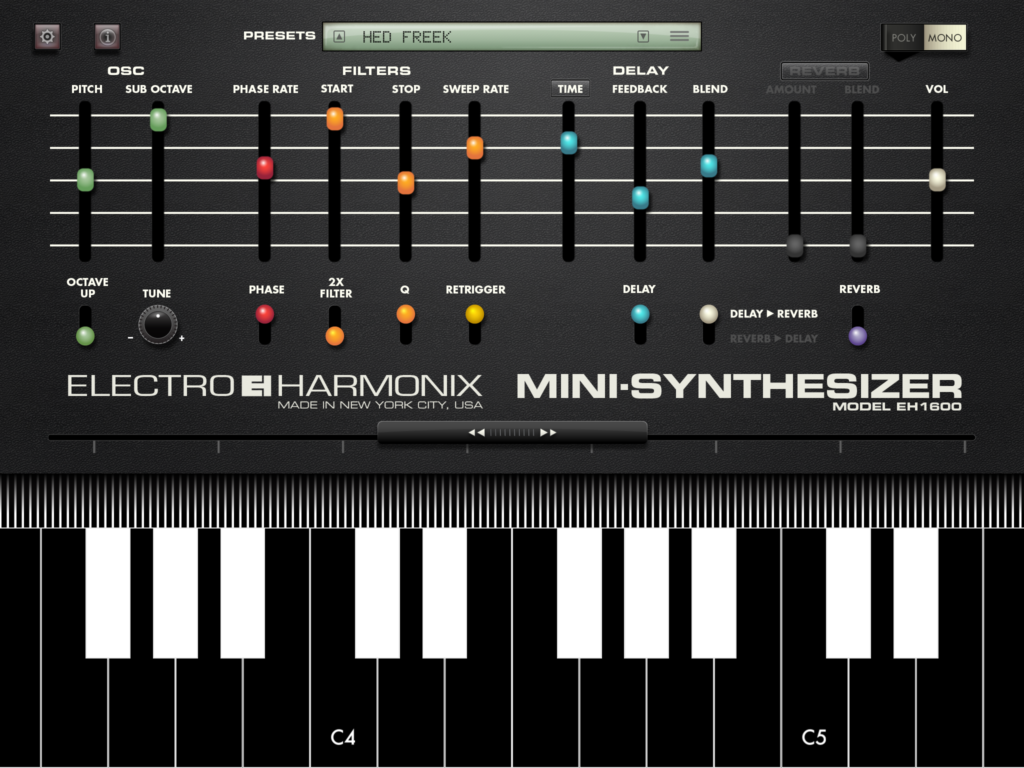 The synth features a simple pulse oscillator waveform with a sub-oscillator (sub-octave) switch like the hardware version. The unique filter includes a phase shifter, a resonance switch (Q), and an interesting frequency sweep function. Use the sliders to set the start and stop sweep frequencies as well as the sweep rate. You are also able to switch the filter between series and parallel modes; note the retrigger switch as well.
Check out the various factory presets to get a better feel for the Mini Synthesizer's capabilities. I personally love using it for bass drones. The virtual keyboard on the app supports all 88 keys, including a ribbon controller for sliding notes. You are also able to program the keyboard to display a subsection of keys. All told; it's a definite enhancement over the original synth. Speaking of which…
Mini Synthesizer App Adds Delay, Reverb, and Polyphony
EHX added some extra functionality to the Mini Synthesizer app obviously not included in the original hardware unit. The delay and reverb effects are definitely welcome. Both enhance the overall sound, especially when conjuring up drones as is my wont.
The app also provides a 4-voice polyphonic mode which sounds great as well. Am I weird for preferring the monophonic mode? Still, it's a nice feature to have as an option.
The app supports Audiobus, IAA and MIDI, which lets you incorporate the app in your larger iOS music projects. Sadly, there's no AUv3 support; perhaps that's coming in a future update? I'd love to use the Mini Synthesizer with Rozeta.  Ultimately, if you ever owned the Electro-Harmonix Mini Synthesizer, getting the iOS version is a no-brainer. For the rest of you, it's a fun and inexpensive synth app with a unique sound that's worthy of your interest.
Support Us!