Rob Papen boasts one of the top lines of synth plugins in the music production world. We regularly use Predator 2 on our own projects. It provides an excellent, state of the art sound while also being easy to use.
Recently, Rob's team released BIT, a soft synth focused on those classic vintage sounds of yore. Again, ease of use and a clear interface are also hallmarks of his latest product. His team managed to fit the entire synth architecture on essentially a single screen.
Rob Papen BIT Features
16-Voice Synth Architecture Focusing on Analog Modeled Synthesis
Two Oscillators With Classic Waveforms and Dedicated LFO and Envelope
Oscillator Modulation Supports FM, Ring Modulation, Phase Modulation
Sub-Oscillator Attached to Oscillator 2
Noise Oscillator With White and Pink
Two Filters With 11 Different Filter Types
Dedicated Filter Envelopes With Routing Options
LFO With Three Waveforms
AMP with Velocity and Dedicated Envelope
16-Step Arpeggiator Supports Weirdo Time Signatures
Modulation Matrix
Effects Include Chorus, Flanger, Phaser, Delay, and Reverb
Single Screen Interface
Nearly 1,000 Presets
Available for $99 or as Part of the Explorer 5 Bundle
In short, Rob Papen BIT is a no-brainer for musicians looking for a vintage virtual analog sound. It's a joy to use and sounds great. Let's dive into the details to see if BIT makes sense as part of your plugin arsenal.
BIT Provides a Clean Synthesizer Interface
Other than the patch library, BIT fits perfectly on a single screen. The two oscillators reside at the top left, with knobs and switches clearly laid out. Virtual oscilloscopes offer a real-time view of each oscillator waveform and the effects of modulation, providing useful insights for someone new to synthesis.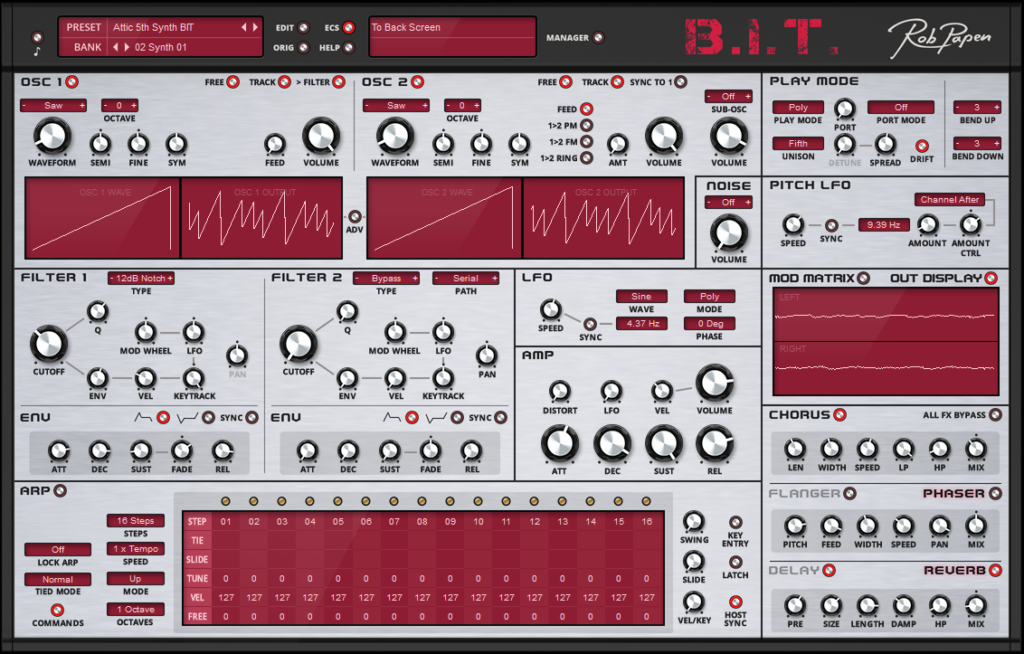 The two filters, AMP, envelopes, and LFO all sit beneath the oscillators. Once again, the clear layout of all knobs, switches, and drop-downs makes parameter tweaking a breeze. It's also possible to sync the envelopes to the tempo of your DAW.
A full-fledged 16-step arpeggiator resides at the bottom of the screen. Thankfully, the number of steps is variable, putting the wonder of those weirdo time signatures at your fingertips. Expect a full array of arpeggiator functionality, including swing, slide, a variety of different directional modes, and access to a convenient key entry feature.
The right side of the interface includes the Play Mode, a pitch LFO, as well as a switchable output waveform oscilloscope and simple modulation matrix. Below that is an effects section, including a flanger, phaser, delay, reverb, and chorus. Once again, BIT's user interface makes it easy to create your own patches and tweak the copious number of presets.
Rob Papen BIT Features a Powerful Virtual Analog Sound
Since BIT features those nearly 1000 presets, with many of them designed by Rob Papen himself, some patch surfing provides insight into the synth's sonic depth. As noted above, the well-designed interface facilitates the tweaking of presets, ultimately making something usable for your own projects. Even writing a few cool arpeggios – preferably in an odd time signature – helps to put the patches through their paces.
Sonically, BIT ranks with other excellent virtual analog soft synths. Not surprisingly, it reminds me of Rob Papen Predator 2. The simpler interface compared to that Papen beast makes it easier to conjure up a suitable synth patch for nearly all electronic music, spacerock, and cool prog rock needs.
Both oscillators sound realistic, and you are also able to simulate actual synth hardware by modulating the two, using FM, phase modulation, or the bite of the ring modulation. The simple modulation matrix lets you easily add a sense of motion to your own patches. BIT uses 16-voices, so the classic polysynth tones of the late 70s and early 80s are well within reach.
In the end, if you want a virtual analog synth plugin that sounds great and features an easy to tweak interface, BIT belongs on your shortlist. Rob Papen continues to be one of the most trusted names in the software synthesizer world, and this release carries on that tradition. Get it as part of his Explorer 5 bundle to add some breadth to your plugin collection.