The Czech company, MeldaProduction, continues to garner praise among musicians and producers for their excellent plugin line. It's a collection of instruments and effects including both paid plugins as well as many free options. We recently enjoyed the opportunity to review their MDrummer, a drumming environment with excellent sound quality and cool functionality. It was love at first sight (or sound!)
MDrummer Features
Excellent Sound Quality
Functional UI Makes Creating New Drum Sets Easy
Robust Drum Machine Sequencing Functionality
Built-in Effects Engine
64-Bit Processing With Unlimited Sample Rate
New Sample Libraries – Known as Drummer Packs – are Free
Hundreds upon Hundreds of Snares, Kicks, Toms, Cymbals, and More
Support for Modulators and Multi-parameters
Flexible Mixing With Support for Mono, Stereo, M/S, and Surround
Supports Most Popular Plugin Formats
Separate Plugins Include Either 1 or 16 Outputs for Mixing
Available from MeldaProduction for $301 With Lifetime Free Updates
From a sonic standpoint, this review focuses on the recent Drum Empire 2020 Drummer Pack. It features a host of cool sampled kits, including the legendary Ludwig Vistalite made famous by John Henry Bonham. So let's dive into MDrummer to see if it might become your favorite e-Drum plugin.
A Functional Plugin Interface
MDrummer's main interface features multiple tabs, providing access to the Quick Setup page, the mixer, a song construction page, the Drumset Editor, and pages to construct and generate drum machine rhythms. However, this review focuses on playing MDrummer with my Alternate Mode TrapKAT, so I won't go into too much detail on the song and rhythm pages. Needless to say they are quite powerful, with the latter featuring a cool Euclidean sequencer. I hope to cover that functionality in an upcoming review.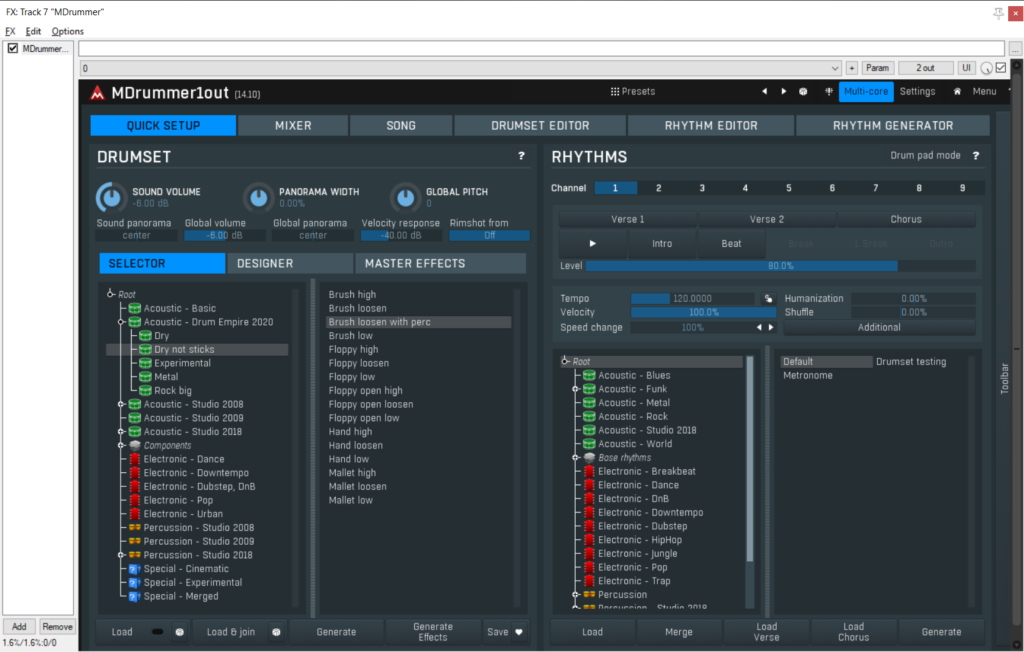 Unlike other drum plugins I've used, MDrummer dispenses with a skeuomorphic interface. So instead of a visual representation of a studio drum set, the Drumset Editor lists each drum in a grid. Thankfully, this interface features a colorful image of the drum along with buttons to choose the specific kit piece, add effects, layer drum sounds, and more. In short, the interface is attractive, while also being highly functional. Notably, when installing all the Drummer Packs (they're free so why not?) you have literally hundreds (thousands?) of options for snares, kicks, toms, cymbals, percussion, and more.
In a similar manner, the Quick Setup page lets you choose a drum set and its master effect. In MDrummer, a Drummer Pack functions as a sample library. A convenient tree interface lets you drill down into each installed Drummer Pack to find a specific drum set. A similar interface exists to choose the master effect for the drum set. It's also possible to layer (essentially combining) drum sets and effects for additional sonic flexibility and mayhem.
Crafting a Drum Set with Percussion
As noted earlier, the goal of this review focuses on the newer Drum Empire 2020 Drummer Pack. Each drum set was sampled in a high-end Czech studio with great drummers using a variety of drum sticks, brushes, mallets, and more. I tend to prefer digital drum sets using brushes and Drum Empire 2020 features quite a few.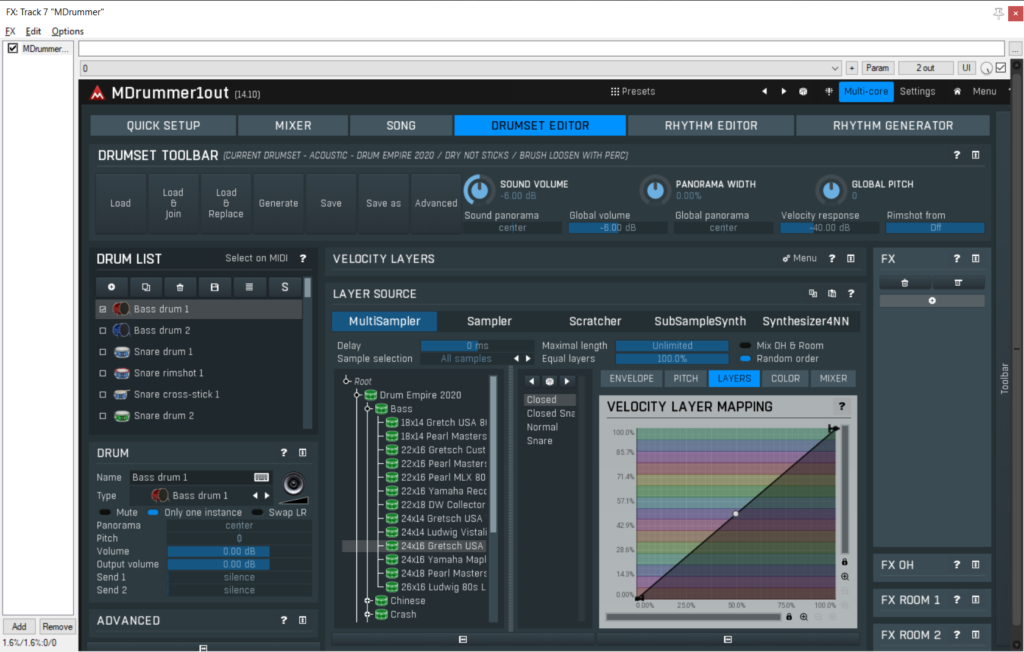 I fell in love with MDrummer's Gretsch-based Brush Loosen drum set, but some of the TrapKAT pads – the ones used for percussion – weren't mapped. The easy to use Drumset Editor interface made mapping those extra pads a breeze. I simply edited the drum set and found the killer-sounding congas and bongos I needed. I saved it as "Brush Loosen With Percs." Check it out in action in the following video.
MDrummer also provides control over the velocity layers and samples used in each sound. This illustrates a common theme throughout the plugin. Getting at the basic functionality is simple, but it's also possible to dive into more advanced functionality as needed. Remember, each drum also includes its own effect, which is also modified using this page. Note that both the Quick Setup and Mixer pages allow the editing of the master effect for the entire drum set.
The Best Drum Plugin I've Ever Heard
I've been playing electronic drums for over two decades. In addition to a highly-effected Roland drum module, my studio work features an array of drum plugins. Simply put, MDrummer blew me away. I've only scratched the surface of its capabilities, let alone the kits in the other Drummer Packs. As a reminder, MeldaProduction provides all new Drummer Packs for free to registered users of MDrummer.
Obviously, excellent sampling techniques, great drummers, and quality studio gear make for superior drum samples. The cymbals are especially worthy of note. The rides and crashes boasted high fidelity with especially long decay times. The splash cymbals also blew me away. Stunning sound quality like this abounds throughout MDrummer.
Check out another video using the famous John Bonham Ludwig Vistalite drum set. MDrummer's action is superb with nary latency issues encountered on a laptop with 8GB of RAM. Headphone listening also reveals the large stereo image.
I typically use the one stereo output version of the plugin within Reaper. Therefore, sub-mixing the drum set gets handled using the flexible internal MDrummer mixer. A 16 output plugin exists for those who prefer to mix within their DAW. Controlling the Global panorama setting on the Quick Setup page nicely enhances the stereo image. The nearby pitch control is also effective for quickly tweaking the overall drum tone within the mix.  
Ultimately, if you are an electric drummer, MDrummer belongs on your short list of plugins. Excellent sound quality, an easy-to-use interface, and a detailed sonic architecture make MeldaProduction's drumming plugin a true winner. Let the Drum Empire 2020 Drummer Pack be your gateway to a killer drum sound. It rapidly became my favorite drum plugin!