Bram Bos remains one of the leading lights of iOS synth and effect app development. We've reviewed much of his work in the past, including Ruismaker Noir, Kosmonaut, and the incredible Rozeta Sequencer Suite, among many others. They all feature great interfaces, support the AUv3 plugin format, and belong in the library of any iOS musician focused on electronic and experimental music.
Mononoke is one of his latest joints; a drone synth perfect for conjuring travels along those lost highways of yore. A great sound and intuitive bespoke interface make it easy to build evolving sonic causeways suitable for many musical applications. We've been using it quite a bit lately, so I better finish this review!
Mononoke for iOS Features
Expressive Drone Synthesizer for the iOS Platform
Two Independent Synth Engines with Feedback Routing Between Both
8 Voice Polyphony – 4 Voices Per Synth
Interface Features Synth Controls and Unique Performance Pads
Performance Pads Have Hold Buttons and Support MPE and MIDI I/O
Universal App With AUv3 Support and Standalone Mode
Available at the App Store for $8.99
If you are searching for inspiration to power your experimental music projects, look no further than Mononoke. Its high-end features, functionality, and modern sonics are at home in the app collection of the forward-thinking musician. Let's take a closer look.
Another Great Bram Bos Synth Interface
Mononoke's user interface and control scheme are deceptively simple but quite powerful. The app features two main screens. One handles the synth controls, while the other features the performance pads and other related functionality. Of course, as a UI design expert, Bram crafted yet another elegant interface; one familiar to users of his other music apps. Additionally, expect a straightforward preset management system like his other apps.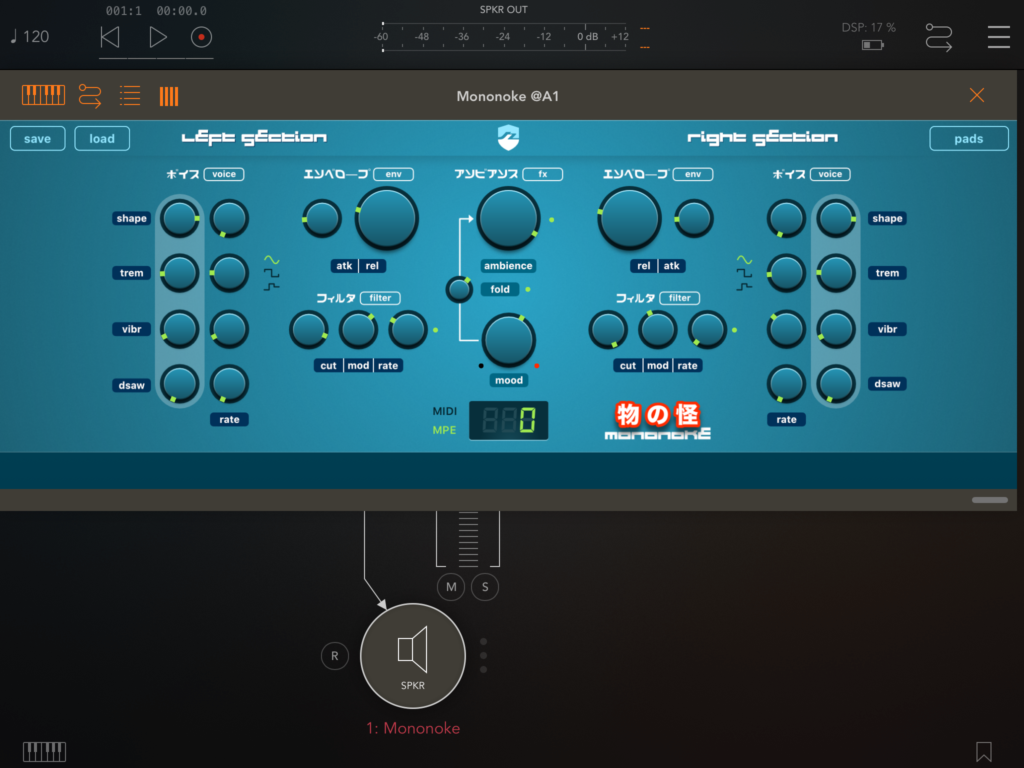 The twin synth engines sport what looks like a standard array of controls, but this apparent simplicity belies the complexity of the internal routing, wherein Mononoke's magic lies. Knobs exist for controlling waveform shape, tremolo, and vibrato, with separate rate controls for each parameter. There's also a LFO switch selecting either a sine wave or pulse. Simple AHR envelopes, low-pass filters, and a unique effects engine focused on warmth and ambience round out this section.
The Performance Pads and Feedback Lie at The Heart of Mononoke
Mononoke's performance pads reside with the synth's feedback controls on the second screen. The performance pads are where the app's sonics truly shine. They are tunable, but also operate in an unquantized free oscillator mode using the switch to the right of the screen. Each pad supports aftertouch on the Y-axis, and pitch bend on the X-axis. Like other iOS virtual keyboards – Animoog for instance – velocity is determined by the location of the first tap. Pressing towards the top allows for a higher velocity. This intuitive approach is somewhat similar to the MPE standard.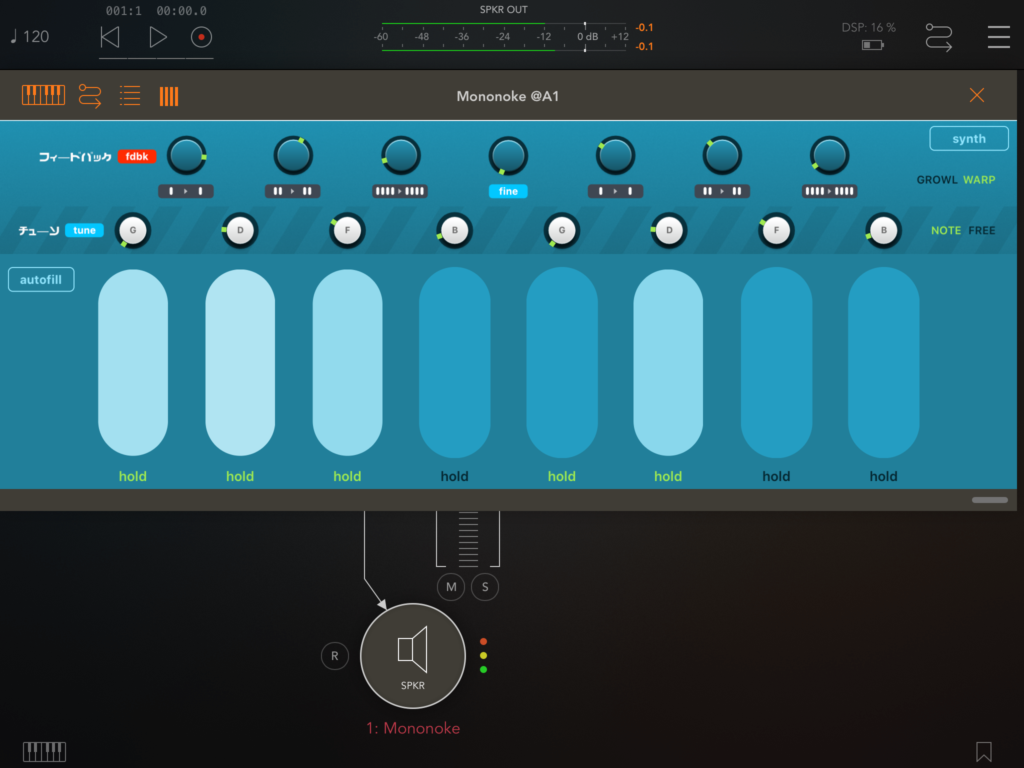 Note the app also supports MIDI MPE controllers for extra performance functionality. Still, the embedded pads themselves offer a unique amount of control; just play with them to get a feel for the sonic possibilities. Ultimately, don't expect to get an optimized sound when triggering Mononoke using a sequencer – the internal pads or an MPE controller is essential.
The pads and the synth's feedback architecture combine to provide Mononoke's special sauce. Again, experimentation followed by empirical analysis rewards the user.
Use the six knobs on this screen to control the amount of feedback. The feedback engine leverages phase modulation between voices. Each synth section of Mononoke contains 4 voices, with the three knobs cross-feeding either each individual voice into the adjacent voice, each pair into the other pair, or the entire section into its counterpart. A wide range of sounds are possible, with the switch between Growl and Warp adding to the fun. Remember what we just said about experimentation!
Note you are able to record Mononoke's MIDI output data – including MPE – when it's running within an AUv3 host app like AUM. Of course, the app needs to support MPE to receive that data format.
Ghost Traffic Travels Along Route 66
In the wake of Coronavirus pandemic, I am working up a live set of Church of Hed and Quarkspace material along with other surprises. One of the Church of Hed pieces I am going to perform is Hooker Cut from Rivers of Asphalt. As this album is essentially a travelogue along today's Route 66, I figured Mononoke would be perfect for conjuring up some "ghost traffic" to help me flesh out the sound in what is a more minimalist version of the studio track.  
I experimented with a synth patch, creating something that sounded like trucks and other vehicles traveling The Mother Road. The use of the X-axis pitch bends for a Doppler effect also added to the overall sound. Much experimentation between feedback and the pairing of notes also helped add depth.
Mononoke performed beautifully. I used it within AUM to include additional effects. Some BLEASS reverb added a ghostly feel to the proceedings. FAC Maxima finalized the sound perfectly. I will update this review with a video recording of the track once the live set happens. Ultimately, if you need a unique drone synth app in your iOS musician arsenal, Mononoke needs to be on your shortlist. Bram Bos continues to make Apple's mobile platform a perfect option for the modern experimental musician.